Offer > Signal separators and transmitters > T838
Universal separator T838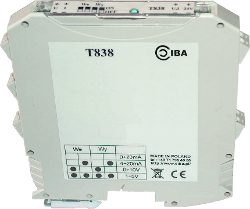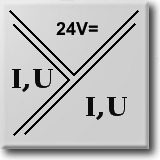 Input / Output: 0÷20mA, 4÷20mA, 0÷10V or 1÷5V selected by switch
accuracy class: 0.05
separated power supply
high resolution of outputs
high stability
galvanic isolation 2kV
12.5mm width rail-mounted enclosure

Specifications
The T838 module processes the selected standard analog signal (0÷20mA, 4÷20mA, 0÷10V or 1÷5V) into an identical or different standard analog signal, maintaining galvanic separation between the circuits. Module's power supply (24V=) is also galvanically isolated from both input and output. The insulation test voltage is 2kV.

When selecting the 4÷20mA input range, an additional terminal can be used to supply power to the connected signal source (18V / 20mA).

Level of the input signal is illustrated by color of built-in LED indicator - from green at the minimum to red at the maximum level.

Thanks to high resolution (0.5μA or 250μV) and low noise, output signal faithfully reproduces the input state. All signal ranges are factory calibrated, which in combination with a low temperature coefficient (typically ± 30ppm/ºC) ensures accurate signal processing over a wide ambient temperature range, regardless of the choice of signal combinations. Use of an efficient inverter means low power consumption (less than 25mA with a 20mA output).

Choice of input and output signal is made by means of a switch located under the front cover. Signal coding method is simple and the same for input and output.